Next Meeting Information
Monday, July 10th, 2017 at 6:30 PM
Next Meeting: Annual picnic.

Join us at Coyner Park. The address is 2091 Lynhurst Road, Waynesboro, VA.

Bring a dish to share with others. Paper products will be provided.

Additional details here.

Regular monthly meetings are held at:
364 Bridge Avenue
Waynesboro, Virginia 22980
Google Maps link: https://goo.gl/maps/oRMAS
Directions here.

Aerial View of Church: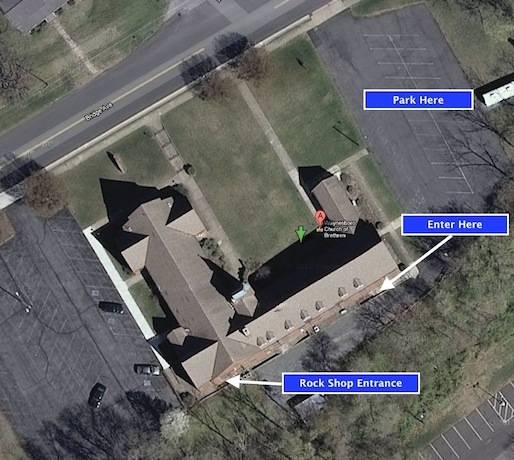 Agenda
Socializing & refreshments @ 7:00 pm for those interested
Call meeting to order
Welcome to visitors
Accept or amend prior meeting's minutes
Treasurer's report
Other Officers/Staff reports as appropriate
Discussion of old business; vote on any motions
Discussion of new business
Field trip reports
Announcements, including field trips and activities
Program:
TBD


Upcoming events/actions:
The club's rock workshop will be open for members Saturday, July 15th from 9 AM to Noon. A second session for July will be held on Saturday, July 29th, 2017 (same hours).


Field trips:
See the Field Trip Newsletter sent by the club secretary to members on June 23rd, 2017 for descriptions and all the details.

July Club Meeting: Picnic!


Looking Ahead:
Start planning on making a display case for the show in September at EXPO.

Last year we had quite a few displays, which the public thoroughly enjoyed, and we had a lot of help which made things go smoothly.

This is a lot of fun, and it is great to see our regular vendors at our Friday night dinner. (Sept 22, 23, 24) Mark your calendars and come help out!

If you'd like to present a program, please talk to an officer at a meeting

Anyone can sign up to bring snacks for a monthly meeting - just let the club secretary know in advance so we don't have to deal with the problem of too many snacks!