Next Meeting Information
Monday, May 8th, 2017 at 7:30 PM
Regular monthly meetings are held at:
364 Bridge Avenue
Waynesboro, Virginia 22980
Google Maps link: https://goo.gl/maps/oRMAS
Directions here.

Aerial View of Church: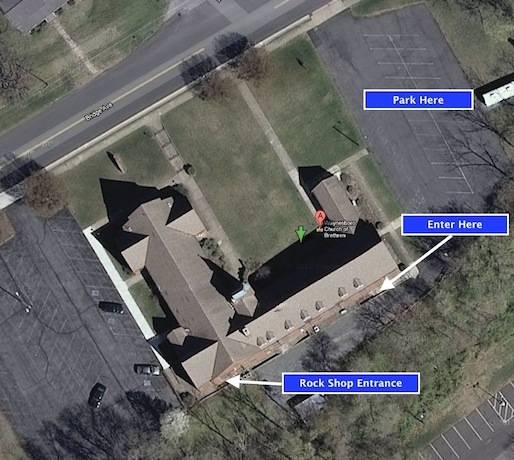 Agenda
Socializing & refreshments @ 7:00 pm for those interested
Call meeting to order
Welcome to visitors
Accept or amend prior meeting's minutes
Treasurer's report
Other Officers/Staff reports as appropriate
Discussion of old business; vote on any motions
Discussion of new business
Field trip reports
Announcements, including field trips and activities
Program:
Some of the members who went to KY may have some minerals to show from the trip.

Mike will show a DVD about the Elmwood Mine in Tennessee, where the gigantic golden calcites occur, along with other goodies.

The DVD is from the Dallas Mineral Collecting Symposium 2016, and the speaker is Dr. Steve Neely, who is physician to the miners, and a collector with deep pockets.

Elmwood is another example of Mid-West sedimentary mineralogy like we saw in the quarry in Kentucky.

Sounds intriguing!


Upcoming events/actions:
The club's rock workshop will be open for members Saturday, May 13th from 9 AM to Noon.

A second session will be held THREE Saturdays later, June 3rd, 2017 (same hours). The three-week interval is to avoid having the rock shop date fall on Memorial Day weekend.

Wayne is working on a few trips – perhaps Rose River in May and to see a lady in mid-summer who is from Malaysia who collects minerals from many countries.

Details will follow in the Field Trips Newsletter later.

June Club Meeting: TBD

If you'd like to present a program, please talk to an officer at a meeting

Anyone can sign up to bring snacks for a monthly meeting - just let the club secretary know in advance so we don't have to deal with the problem of too many snacks!