April 2015 Program Information
April 2015 Program
We will have a Show and Tell - Each of us will bring in one or two items of interest to show to our colleagues, and we will explain why we think that the items are interesting, or "cool", or beautiful.

I think that this program will give us all a better sense of the depth of knowledge available in the SVGMS.

There's a gallery of pictures from the meeting to be viewed here.

If there is time left, Jack Glenn will show us an episode or two from The Mineral Explorers.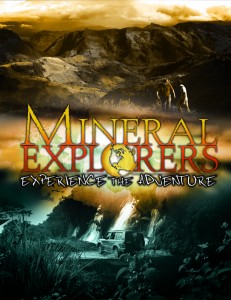 Mineral Explorers - Series Synopsis:

Mineral Explorers is an unscripted reality series packed with adventure, travel, education and the world's finest gems, crystals, and minerals.

Each 30-minute episode follows mineral expert Thomas Nagin as he travels to some of the richest and most remote mines on earth, taking viewers deep underground to experience a world of natural beauty and immense wealth.

Digging, dynamite, danger – it's all in a day's work for the men and women whose livelihoods depend on these natural wonders.

The series introduces audiences to the miners and their cultures, to the minerals and the myths that surround them.

With mineral deposits scattered all over the earth, there are endless opportunities for future episodes – giving Mineral Explorers the opportunity to showcase a world rich in minerals and cultural diversity.