The 47th Annual SVGMS Gem & Mineral Show
New Dates and Times!!! Check back for additional updates!
===>>> Download the show flyer HERE <<<===
The show will be held Friday - Sunday, September 26th - 28th, 2014


The show will feature (tentatively; final attractions may differ):
Exhibits from SVGMS members & vendors illustrating the beauty & fascinating aspects of the rocks & minerals found in the Shenandoah Valley & around the world

Retail sales of rocks, gems, & jewelry from numerous vendors from around our region

A 'treasure hunt' for the wee folks - let the kids hunt for 'gold' & 'rubies'!
A rock tumbling display & discussion area - have you tried rock tumbling? Here's your chance to find out how!

Video presentations on rockhounding & lapidary topics
Panning for gold! Demonstrations will be presented by The Central Virginia Gold Prospectors

Door prizes contributed by our vendors & members drawn for hourly (all three days)

The show will be presented at:
NOTE - New Location!!!

The Augusta Expo
277 Expo Rd,
Fishersville, VA


Hours:

Show hours
NOTE - New Dates and Times!!!


Google Maps location:
http://goo.gl/maps/o14Pk
Aerial view: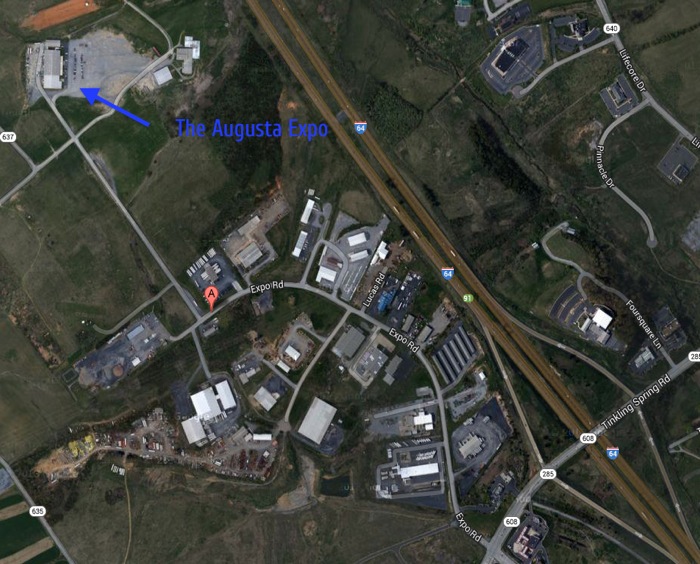 Scheduled exhibitors:
Amber America - Brooklyn, NY
Lost Cove Minerals - Marion, NC
Unique Russian Minerals - Fort Lee, NJ
Virginia Rockhound Shop - Nellysford/Afton, VA
The Gem Tree - Covington, VA
Canton Colectibles
Velima's Crafts & Varieties
Beverly Beahm
AGQ Design - Broadway, VA
White Rock Shadows - Annandale, VA
PGR Gems/A Different Facet - Penn Laird, VA
Excalibur Mineral Corp. - Charlottesville, VA

View & download Show Flyer here
Vendor Inquiry available here